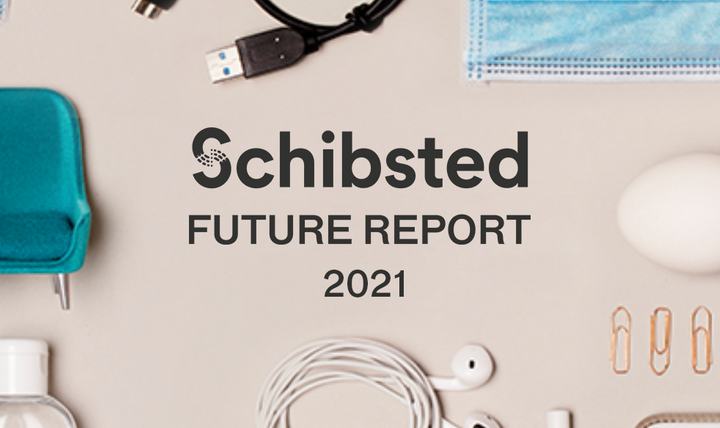 Schibsted lanserar Future Report 2021
"Jag är stolt varje år som denna rapport kommer ut, men kanske lite extra stolt i år. Vi är alla under enormt tryck på flera sätt, men jag känner stort hopp för framtiden när jag ser alla spännande möjligheter och kompetenser som människorna på Schibsted representerar", säger Kristin Skogen Lund, vd för Schibsted. Schibsted Future Report är företagets årliga syn på viktiga trender inom Tech, People and Business. Den är skriven av Schibsted-anställda som delar idéer och insikter om ämnen de tror kommer att påverka vår värld de närmaste åren.
Vi tror att det är viktigare än någonsin att vara öppen och ha diskussioner just nu. I kristider är det lätt att se vikten av trovärdiga och faktabaserade nyheter. Det är också lätt att se behovet av djärvhet och förändring. Vi vill fortsätta att göra djärva drag och vara en kraft för att möjliggöra förändring i människors liv. Det är också därför vi tror på att titta runt hörnet och dela nya perspektiv, säger Kristin Skogen Lund.
I år är en del av rapporten reserverad för covid-19 och dess påverkan på samhället. Dels en tillbakablick på hur stora kriser historiskt har förändrat världen på olika sätt, och dels hur covid-19 har drivit på digitaliseringen och vilka nya utmaningar ledare står inför på grund av det.
Schibsted blickar alltid ett steg framåt för att ge våra läsare möjligheten att få nya perspektiv på Tech, Business and Strategy, och bli introducerade till några av alla inspirerande människor bakom våra bolag. Vi ser också bortom pandemin för att utforska nästa AI-utmaningar, vad som får startups att lyckas, hur teknik kan vara en gamechanger inom jordbruk – och mycket mer, säger Ann Axelsson, chefredaktör för Future Report.
Här är exempel på några av alla artiklar du kan läsa i Future Report 2021:
How crises disrupt and evolve society
Schibsted's top ten tech trend-list
Welcome to the synthetic decade
Leaders under pressure
How subscriptions drive new businesses
Photographers on the frontline of the Corona pandemic grab the readers' hearts
Under 2021 kommer Schibsted även att lansera en serie Future Report webinars – håll utkik i våra digitala kanaler för mer info! Se Kristin Skogen Lund presentera Schibsted Future Report 2021 här Läs hela Schibsted Future Report 2021 här Besök Future Reports webbsida här