Följ din kampanjrapport i realtid
Att följa hur en kampanj presterar är A och O vid annonsering. Men det kan vara omständigt att som medieplanerare behöva dela exporterade filer från olika system, eller som annonsör att behöva be om uppdateringar från sin mediesäljare.
För dig som annonsör
Som annonsör på Schibsteds sajter har du nu möjlighet att följa dina kampanjer i realtid. Du gör det via en live-länk som du hämtar på Schibsteds annonsplattform Admarket. Du kan också be din säljkontakt att dela länken med dig. Dela den sen fritt med dina kollegor.
För dig som medieplanerare/rådgivare
Koppla bort på riktigt när du är ledig! Dela en länk till dina kunders kampanjrapporter direkt och ge dem själva möjligheten att följa hur deras kampanjer presterar i realtid. Ett smart sätt för dig som vill fortsätta vårda dina kundrelationer men minska administrationsarbete.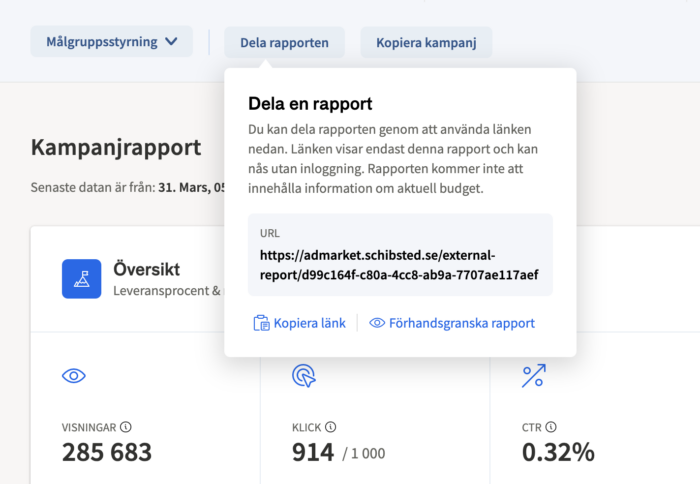 Så funkar det
Du registrerar dig kostnadsfritt i Admarket där du har en överblick över alla dina bokade kampanjer på Schibsteds sajter. Här väljer du sen den rapport du vill visa och kan direkt ladda ner live-länken. Du kan enkelt förhandsgranska hur vyn kommer se ut genom att klicka på "förhandsgranska rapport".
Länken är aktiv i 60 dagar och kan nås utan inloggning av alla som har tillgång till till den.
*Kampanjrapporten visar ej print, Branded content, Podcast och vissa integrationer.